VTR for the Shopping Channel
A few months back we produced a short 30 seconds video for a Japanese shopping channel with our long term clients Daiya.
Note: This video wasn't edited to music as it was to be used whilst the presenters talked over the top of it, this music was added just for this blog post.
It was a short shoot with a simple edit but we had chance to use several pieces of our equipment.
As always for this sort of video we were shooting on the Blackmagic Production 4K camera (shooting in 1080 at 24FPS) with a variety of cine lenses and canon glass.
The sequence also has a couple of walking shots which allowed us to utilize the DJI Ronin to help add the stable element to the moving shots. This shots were relatively short in duration but using the Flycam Flowline meant that i could concentrate on the framing of the shot without thinking about how heavy the Ronin and Camera set up was.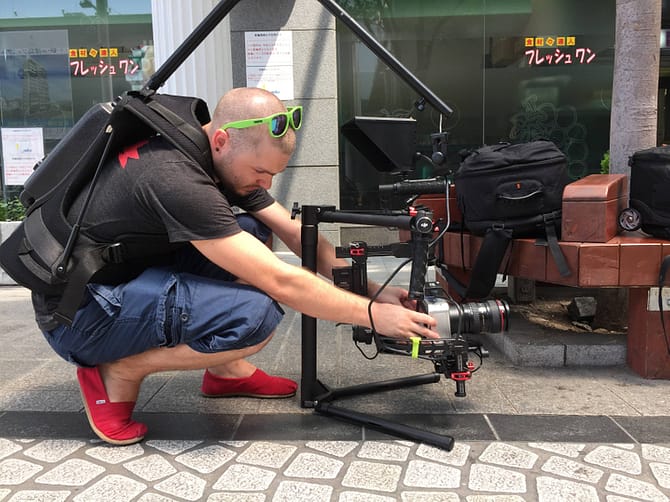 I wrote a post over a year ago when we first got the Flycam and hadn't had a lot of chance to use it on live production set. Since that post we've used it on a lot of different videos in a lot of different situations and settings, and I'm happy to say that it's holding up well. It is starting to creak a little bit, but I'm sure it's nothing a spray of some WD40 style lubricant wouldn't cure. When shooting as a single person operator on the Ronin i think having an easy rig style setup is definitely an advantage, I still have the boom range from low to high, but all the weight is distributed throughout the body so I'm not thinking bout how much my arms are burning but instead thinking about where I'm putting my feet, how softly I'm stepping in order to cushion my steps, and most importantly framing. I've seen a few operators flying their Ronin without a monitor as well but for me this isn't how I like to fly it, depending on which camera you are using it can make viewing the on camera monitor difficult, so I use a Black Pearl monitor (The same monitor we use for the DJI Phantom 2) on a magic arm at the top of the rig so that I can easily adjust it for the optimum viewing angle.
Usually for the Ronin, when using the Blackmagic 4K, the camera is powered via the Ptap output on the Ronin, and I use the second Ptap output to power a SDI to HDMI Convertor for the monitor.
We also used our Dynamic Perception stage Zero Dolly for a couple of shots in the video, to be honest I've never really liked using this as a slider (it's main strength is for motion controlled time-lapse) as it's not very smooth, and actually my carbon fibre rods warped months after buying them. Since we shot this video we bought a Konova K2 slider, which is a hell of a lot better, and more importantly over $1000's cheaper. In all honesty the Dynamic Perception is the only piece of kit that I've ever regretted buying, at the time I bought it there wasn't many options, but now I think there are a lot of better alternatives.
If you have any questions about any of the pieces of kit mentioned in this article please leave us a comment or send us a message and we'll get back to you.
Also if you are interested in any of DJI's products we are an affiliate of them so we'd really like it if you used our affiliate link.